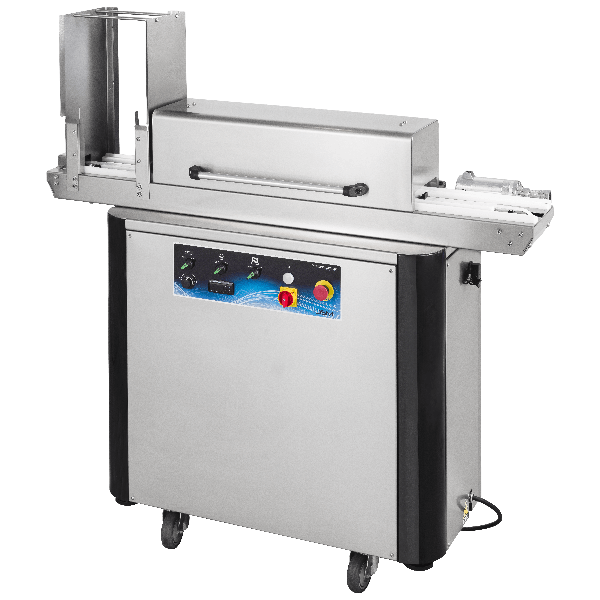 OSM – molds loader with pre-heating function
Designed for automatic loading and pre-heating of polycarbonate molds (175×275). A loading tower molds feeds the tape to the step of pre-heating effected by four infrared lamps inside a cover. Possibility to load manual or automated connected to existing machines. Speed and temperature of heating are managed by a simple control panel.
Available for:
One Shot Depositor OSD-5
One Shot Depositor OSD-10
Technical characteristics:
Totally AISI 304 stainless structure
Possibility to use with different sizes of moulds:
(135×275 – 175×275 – 205×275)
Variable speed of belt
Heating adjustable through digital instrument
Quantity molds of tower load nr. 16
Inspection of Area lamp infrared
Easy handing through wheels with brakes
Rapid extraction of working belt for cleaning and washing operations
Volt 100/240 – Hz 50/60 – Kw 1,2 Single-phase (special voltages on request)
Dimensions: mm.500x1450xh.1.480
download the brochure
OSV – Vibrating table for OSD molds
Designed for vibration products made with One Shot system where an horizontal oscillation is required. It can also be used for other types of productions, such as tablets, only chocolate pralines, pralines with almonds, hazelnuts and so on.
Available for:
One Shot Depositor OSD-5
One Shot Depositor OSD-10
Technical characteristics:
Totally AISI 304 stainless structure

It can be used with chocolate molds with different sizes

(135 x 275 – 175 x 275 – 205 x 275)

Variable belt speed
Vibration intensity pneumatically adjustable from the control panel
Power Vibration editable
Vibration powered by compressed air
Easy handling through wheels with brakes

Rapid extraction of the working belt

for the cleaning operation

Vibration-damping system to absorb vibration

of the machine structure
Volt 100/240 – Hz 50/60 – KW 0,2 Single phase
Dimensions: mm 682 x 1190 x 565
download the brochure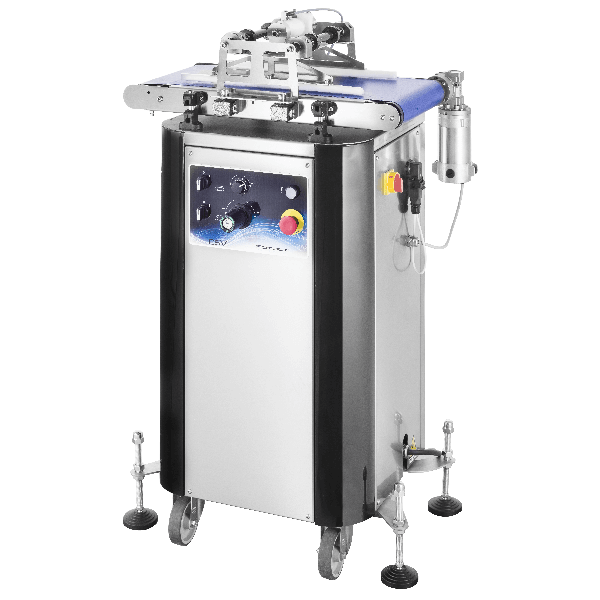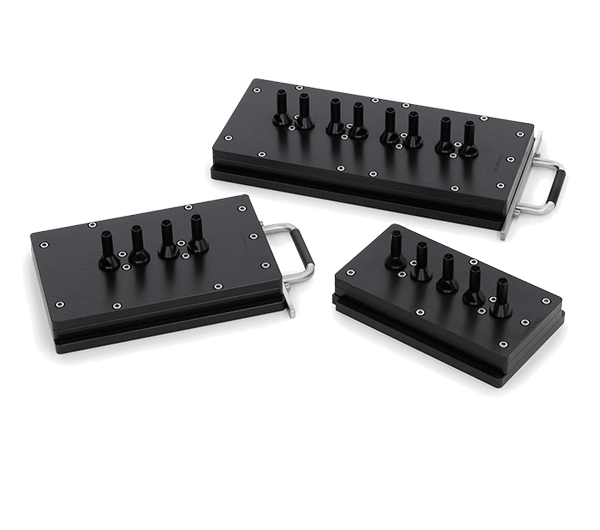 OSD Dosing plate
Available for:
One Shot Depositor OSD ZERO
One Shot Depositor OSD-5
One Shot Depositor OSD-10