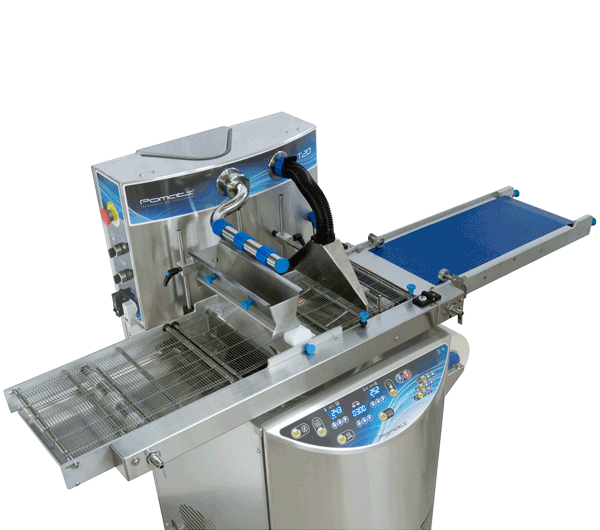 Enrobing belt
Network loading with start/stop function
Re-enrobing network with product vibration area
Unloading conveyor belt featuring a start/stop system fed by a paper roll
Rapid release of unloading conveyor belt for re-enrobing cart washing
Aluminum trays for product unloading
Double veil hopper for total/partial enrobing
Variable-speed ventilator with inverter
Height-adjustable blower featuring a flap top
Motorized tail cutter with reverse direction
Tank for lateral and lower enrobing with sinker
Product height clearance — 160 mm
Variable 0-2 mt/min speed
Heating lamp (optional)
Plaxiglass Cover (optional)
Decorator (optional)
Voltage:
230 Volt – Single-phase Hz 50/60 – KW 0,50 (customized voltages upon request)
Available for:
mm 180: T20
mm 250: T20, T35
mm 320: T35
download the brochure
Tilting Enrobing Belt
Loading net with start/stop system
Covering net with product vibration area
Unloading strip with start/stop system powered by paper roll
Folding structure
Aluminium tray for product unloading
Bearing plane for product unloading
Double-coat hopper for complete covers
Electronic control of ventilation
Blower adjustable in height and tilt
End cutter
Pool for lower and side cover (optional)
Strip length mm 180 (mm 250 version also available)
Electronic control of net speed 0-2 m/min.
Volt 230 – Hz 50 – Kw 1,2 single-phase – (special voltage upon request)
Size when open H 1030 L 1820 P 450
Size when closed H 1890 L 500 P 450
Three-section covering strip assembled on tilting cart.
The tilting air blower allows left and right height adjustment.
It is possible to adjust the distance between the end cutter and the conveyor to streamline the transit of coated products smaller than the standard, spherical or irregular-shaped products.
The loading net can be stopped to improve the accuracy and the timing of product positioning.
The covering net is equipped with adjustable vibrator to streamline the surface of the product and a blower with variable speed with filter to regulate the weight.
The covering speed can be controlled electronically from the operator's panel.
Available for:
mm 180: T8/T10/T20/T35
mm 250: T20/T35
download the brochure
play video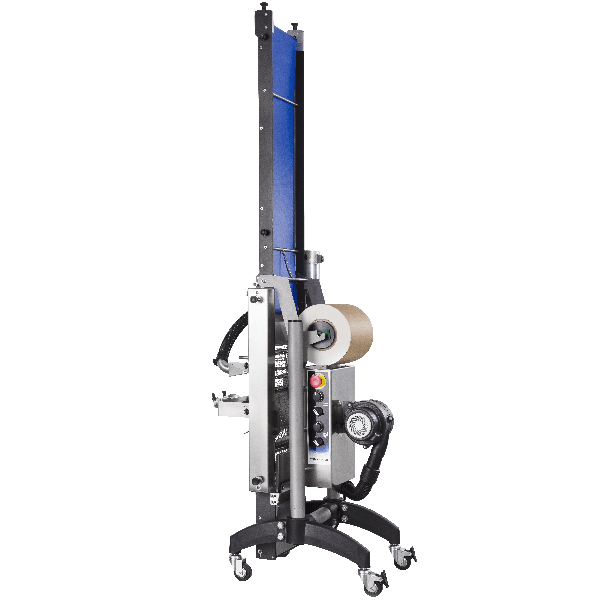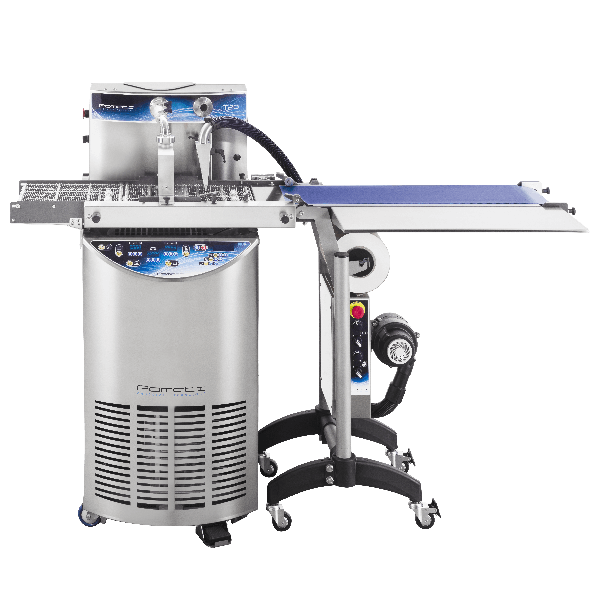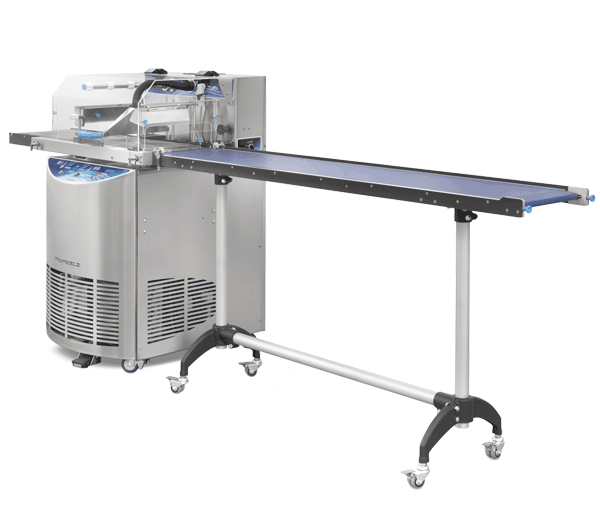 Exit conveyor belt
Available for:
mt 1 / 1,2 / mt 2 – mm 180: T20
mt 1 / 1,2 / mt 2 – mm 250: T20, T35
mt 1 / 1,2 / mt 2 – mm 320: T35
Rotating table for truffles
Available for:
Tempering T20
Tempering T35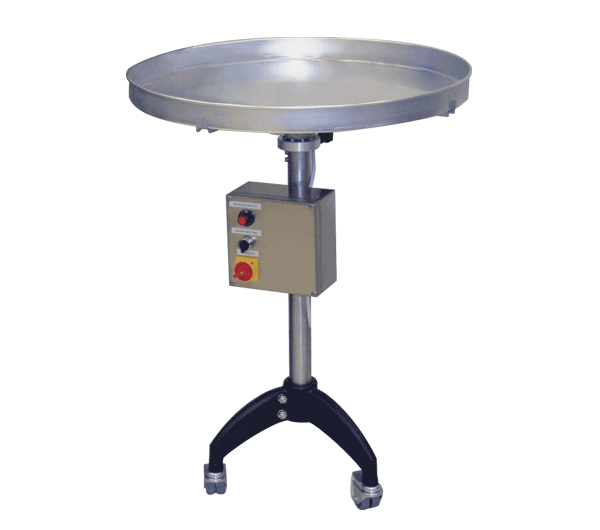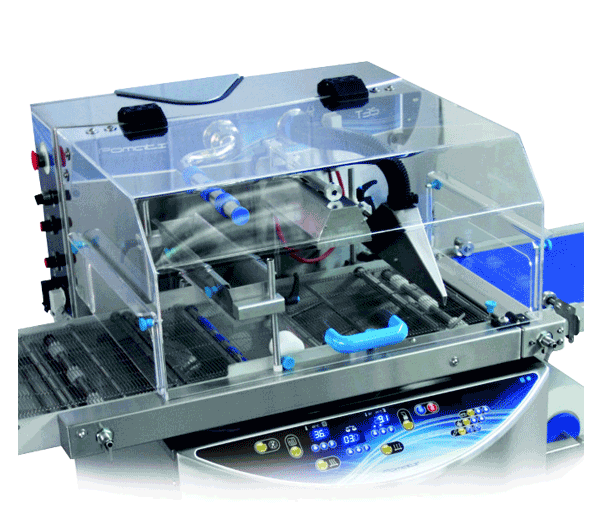 Plexiglass cover
Available for:
Tempering T20
Tempering T35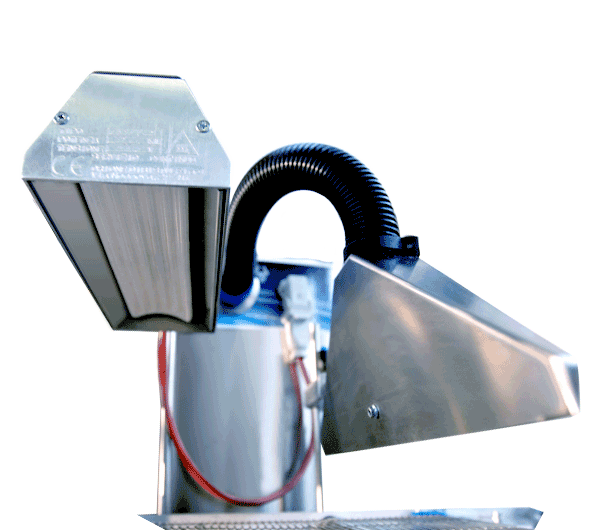 Heating lamp
Available for:
Tempering T20
Tempering T35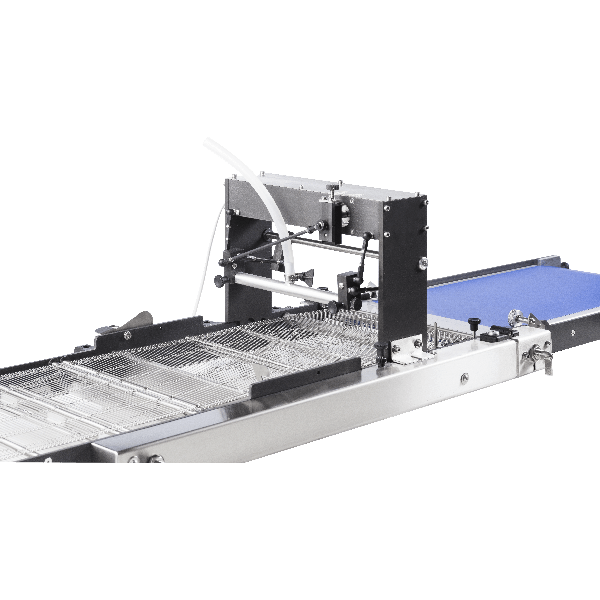 Decorator
Available for:
mm 180: T20
mm 250: T20, T35
mm 320: T35
Dispensing plate
Available for:
Tempering T10
Tempering T20
Tempering T35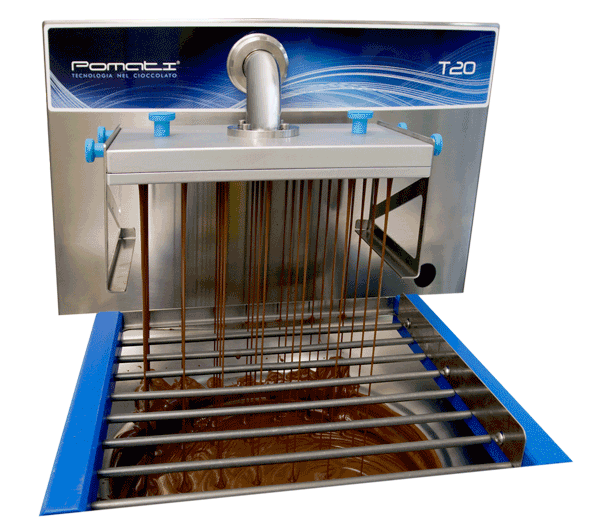 Pneumatic valve
Available for:
Tempering T10
Tempering T20
Tempering T35
Vibrating table T5
Available for:
Tempering T5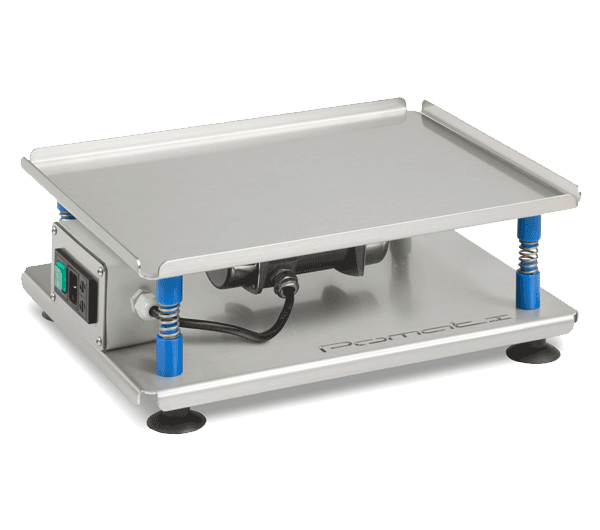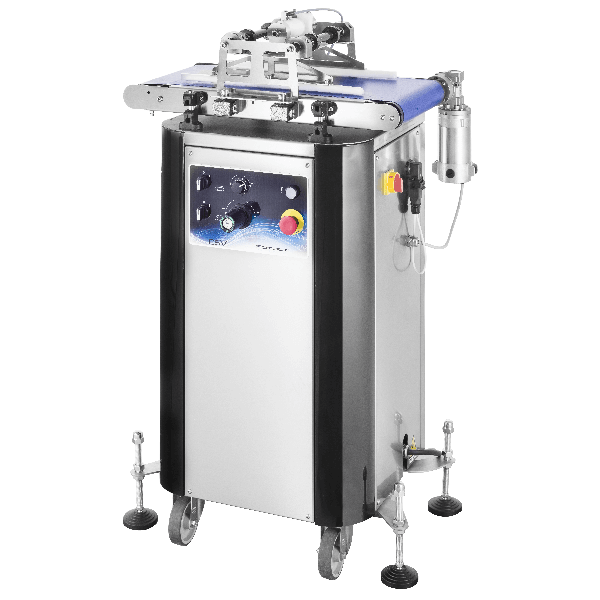 OSV – Vibrating table for OSD molds
Designed for vibration products made with One Shot system where an horizontal oscillation is required. It can also be used for other types of productions, such as tablets, only chocolate pralines, pralines with almonds, hazelnuts and so on.
Available for:
One Shot Depositor OSD-5
One Shot Depositor OSD-10
Technical characteristics:
Totally AISI 304 stainless structure

It can be used with chocolate molds with different sizes

(135 x 275 – 175 x 275 – 205 x 275)

Variable belt speed
Vibration intensity pneumatically adjustable from the control panel
Power Vibration editable
Vibration powered by compressed air
Easy handling through wheels with brakes

Rapid extraction of the working belt

for the cleaning operation

Vibration-damping system to absorb vibration

of the machine structure
Volt 100/240 – Hz 50/60 – KW 0,2 Single phase
Dimensions: mm 682 x 1190 x 565
download the brochure
OSM – molds loader with pre-heating function
Designed for automatic loading and pre-heating of polycarbonate molds (175×275). A loading tower molds feeds the tape to the step of pre-heating effected by four infrared lamps inside a cover. Possibility to load manual or automated connected to existing machines. Speed and temperature of heating are managed by a simple control panel.
Available for:
One Shot Depositor OSD-5
One Shot Depositor OSD-10
Technical characteristics:
Totally AISI 304 stainless structure
Possibility to use with different sizes of moulds:
(135×275 – 175×275 – 205×275)
Variable speed of belt
Heating adjustable through digital instrument
Quantity molds of tower load nr. 16
Inspection of Area lamp infrared
Easy handing through wheels with brakes
Rapid extraction of working belt for cleaning and washing operations
Volt 100/240 – Hz 50/60 – Kw 1,2 Single-phase (special voltages on request)
Dimensions: mm.500x1450xh.1.480
download the brochure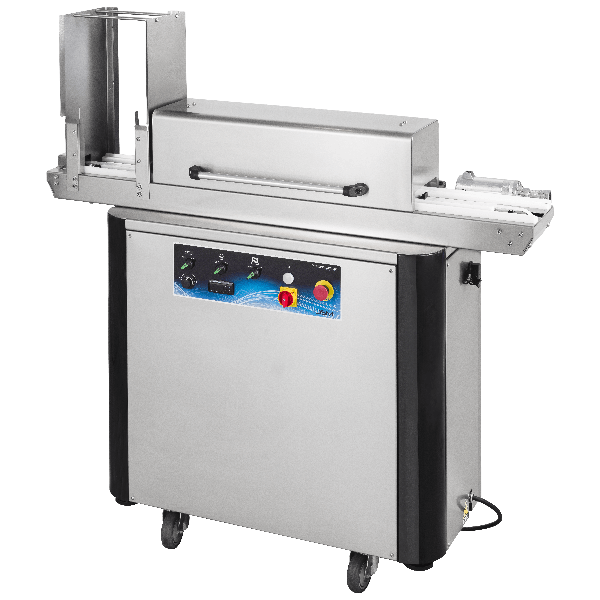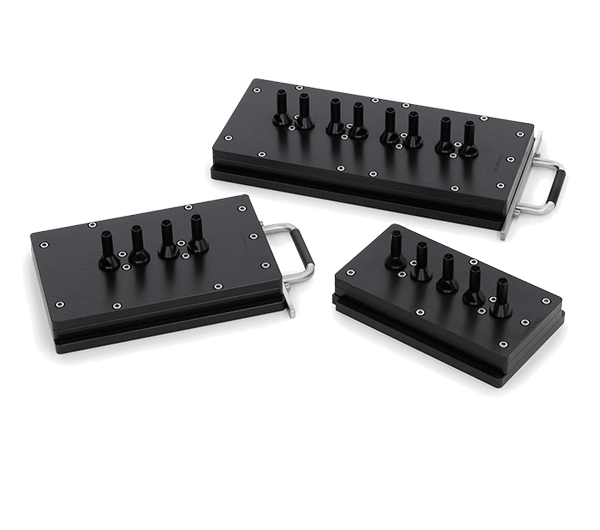 OSD Dosing plate
Available for:
One Shot Depositor OSD ZERO
One Shot Depositor OSD-5
One Shot Depositor OSD-10
Tunnel Lighted inspection window
Available for:
Cooling tunnel
Cooling tunnel Pro
Output sensor for product stop
Available for:
Cooling tunnel
Cooling tunnel Pro